ELEVATOR INTERIOR:

FROM DESIGN TO RENOVATION
OVER TIME, ALL MATERIALS REQUIRE UPDATING
QUICK AND EASY SURFACE RENOVATION WITH ARCHITECTURAL FILM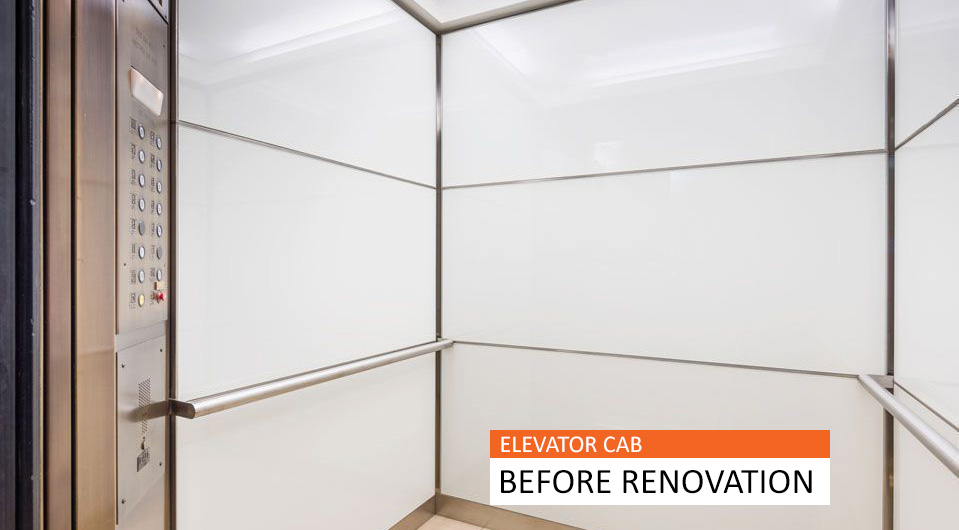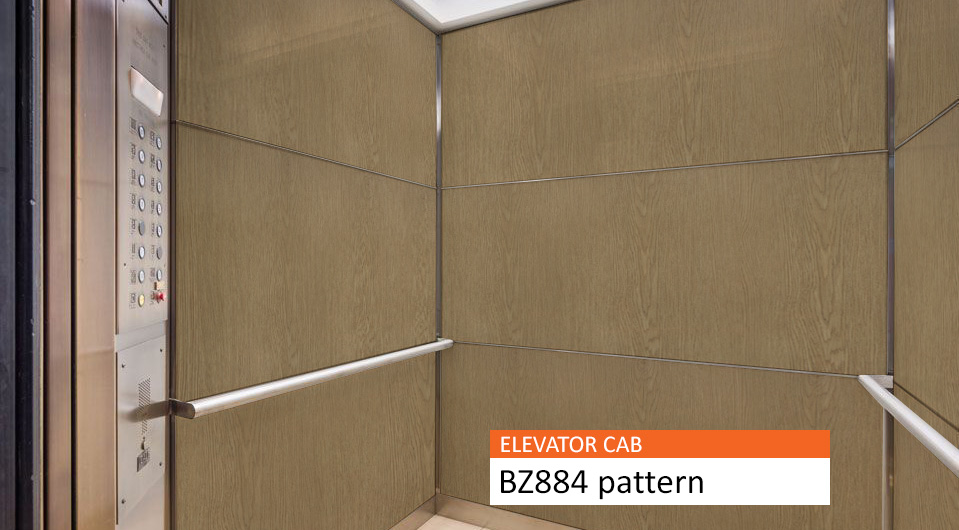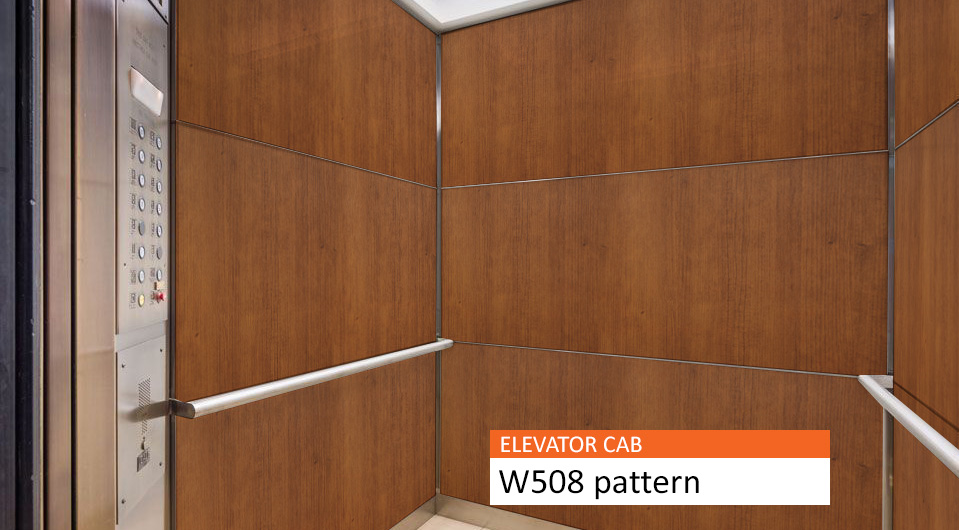 Great Design, Less Hassle
The most underrated part of any high rise or multi-level building is the elevator. The elevator is integral for mobility between the floors of any building – and its appearance is often how people judge the safety of an elevator. Elevators are something that tenants and clients use multiple times a day – so an outdated design or any visible scratches/poor appearance can leave a bad impression on those tenants and clients. If you're looking to change your elevator, know that elevator cab renovation starts with a great design.
The first thing to consider when it comes to elevator cab renovations is that the typical heavy traffic that comes with any elevator warrants for choosing a durable material that is guaranteed to last and provide safety for its users. With architectural film, budgeting for an elevator interior design is no longer an obstacle. Architectural film comes in over 500 patterns and colours, making it easy to create an aesthetically pleasing and unique look to your elevators with the budget that you want.
Key Reasons for Investing in Elevator Redesign
Aesthetics is becoming equal to design and durability when it comes to any architectural initiative.
Here are some of the key reasons for investing in elevator interior design.
Protects Property Value & Brand
There is no point in having a sleek designed building if the elevators don't match that overall aesthetic. Investing in the interior design of your elevator will increase your property and protect that overall brand of your business/building.
Aesthetics is in Style
Elevators are considered to be high traffic areas for users, so it's important to ensure your users are comfortable with the elevator they are in. They will feel more comfortable in a high scale designed elevator vs. a dingy one with scratches.
Endless Design Possibilities
With over 500 different types of designs, multiple patterns and colours, there is no shortage of creativity when it comes to elevator cab remodeling. Architectural film can be used to redesign all aspects of an elevator – wall panels, doors frames and more.
Cost is not an Obstacle
Elevator interior remodelling used to be considered a hefty expense! However, with architectural film, that is not a problem! If the renovation is done with architectural film, it can be done at a fraction of the cost associated with traditional renovation methods.
Speedy Turnaround Time
A great advantage of using architectural film when doing elevator cab interior decorating is that the material is very flexible and durable, making it easy to work with. This film can get the job done in the time frame that is best for you and your building.
Common Types of Elevator Cabs
Architectural film can be used with every type of elevator cab – ensuring that each type gets its own unique look with a variety of styles and colours within their desired budget. Here is a quick overview of each type of elevator cab.
Vertical Elevator Cab
This is a traditional design that can give the elevator cab that timeless look. These cab types are considered to be one of the more difficult interiors to design because they require exact measurements for everything to appear level.
Horizontal Elevator Cab
This takes the vertical cab design and gives it a more modern twist. The wall panels in this design will usually cover the cab walls completely – this gives more flexibility in design options, making this a very popular choice.
Hybrid Elevator Cab
This gives your elevator cab the best of both worlds by combining the vertical and horizontal cab panel systems. This will provide a much greater flexibility in design.
Recent Elevator Renovations
Elevator Interior Renovation Process
We pride ourselves on being open and transparent. One of the ways we do that is give you a look in our elevator interior renovation process.
We understand that "perfect preparation makes a perfect installation".
1. Inspect the surface for any irregularities.
We will inspect the surface of the interior and ensure that all measurements are up to par, and there are no obstacles that might get in the way of the decorating process.
2. Remove any hardware.
Remove any locks, handles, light fixtures, decor elements etc. for a clear workspace.
3. Clean the surface from any grease and dirt.
Wipe down all surface area from any grease or dirt to ensure that the new material will be fresh and clean upon installation. A protective sheet will then be put on the floor or wall to prevent foreign material from staining the floor or wall.
4. Fix all the dents and scratches.
Fix any dents and scratches by sealing all the porous surfaces with putty, and letting it dry. Once it is dry, we will sand and smooth the surface with sandpaper, and clean it with a brush.
5. Prime it.
Mix primer with a diluting solution, and apply this primer around the edges and corners of the elevator cab interior to improve adhesion. Once the primer application is complete (around two to three times), allow the primer to dry out.
6. Cut architectural film.
The architectural film will be cut according to the measurement taken.
7. Apply self-adhesive architectural film.
We peel back the film and apply the adhesive to the floor or wall so that it aligns with the structural measurements. Then we adhere the film from top to bottom.
Code & Safety Considerations of BODAQ Architectural Film
BODAQ puts the safety of their clients at the forefront of their minds. Several of the ways we do it are with:
Fire-Rated Material
We use building materials that are considered to be the highest rated fire resistant materials around. We ensure that the interior cab of an elevator are clad in fire-resistant materials only.
No Formaldehyde
When people are using our elevators, we ensure that they are safe by using no formaldehyde as it is an irritant that can cause a variety of respiratory problems.
NoVOC
We use products and substances that emit none or low rates of Volatile Organic Compounds – leading to a healthier elevator space.
No Heavy Metals
We minimize the risk of metal toxicity or metal poisoning by ensuring our usage of heavy metals is low and safe for users to be around.
Mold-Resistant
We use mold resistant materials made to withstand moist, humid conditions. This will prevent fungal growth, and ensure the health of any elevator occupants.
LEED Positive Material
We use materials that are considered a Leadership in Energy and Environmental Design – ensuring that any of our commercial building projects earn a high rating.
Elevators are the most underrated but important part of your building. It can easily become a focal point, and deserves extra attention because of the heavy foot traffic it garners. It also plays a role in creating a positive first impression to any visitor coming to your building!
Whether you are looking to upgrade the look of your elevators to be more modern and classic in design or are considering it to be a part of a bigger renovation project to add property value to your building – you should consider architectural film. This material provides advantages such as low cost, fast turnaround time, countless design styles, consideration to consumer safety and more!