Explore New Possibilities with Bodaq
It is widely known that furniture giant IKEA implements innovative ideas in their products, stores, and showrooms design. We all love going from one room to another at IKEA showrooms, exploring interesting decisions shown in each of them. But having so many rooms in each store and needing to change their design regularly is costly work. That was one of the reasons why IKEA's design team has decided to use Bodaq for the interior upgrade.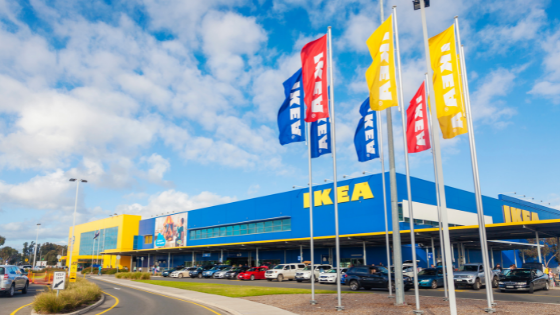 Among other reasons that were taken into account when choosing a refinishing solution were:
So, let's take a closer look at the areas where Bodaq was used.
Feature Wall
For the first area – a feature wall in the bathroom showroom – the designers needed something traditional for this kind of space. So they were looking for a lightweight solution that won't damage the structure of the room walls and will look like a natural marble at the same time. They ended up choosing the PM006 Pietra Marble film pattern from the Stone & Marble Collection.
Pietra Marble Pattern
Pietra marble is one of the most famous, luxurious, and beautiful stones because of its dark rich color with graphic white veining. However, the natural stone costs a fortune, weighs a lot, and, frankly speaking, is not the best decision for temporary construction. So, the Bodaq pattern was a perfect choice that created an elegant environment. Moreover, the silken, velour feeling of the original material is preserved in the film pattern.
Take a look at the pictures below to see how the room turned out.
Cashier Desks
The second area is a little bit more prosaic – they needed to upgrade the look of cashier desks in several stores across Canada. This is when Bodaq film durability became a focal point of the design team's choice. Of course, the W389 Ash pattern from the Wood Collection looks great but on top of the aesthetics, it preserves cashier desks from everyday use damages thanks to its durability, scratch, and stain resistance properties.
Millwork Alternative
And one more area that needed an upgrade – old looking worn out return desks. If not for architectural interior film, the designers would have to order new desks. And that was the main concern as they did not want to add more to the landfill. But with Bodaq being a sustainable solution, there is no need in throwing away pieces of furniture that is still in a good shape but requires a touch up.
This millwork was refinished with two patterns of the film – W389 Ash Wood for the countertop and S115 Snow White from the Solid Colors Collection for the base. It is a great combination of colors to reach a laconic modern look without excessive details.
Take a look at the before and after photographs of the refinished desks below to see the difference. 
Do you agree that the desks look much better now?
Nevertheless, whatever design ideas you have in mind – whether you want to create a completely new space, create a sophisticated feel in the old room, reuse some outdated pieces and breathe a new life in the dated interior – Bodaq is always here to help. Remember, your imagination is the only limit.