Bodaq Interior Films
BODAQ Interior Film's eco-friendly, flame retardant and stability performances are certified by authorized international institutions. From manufacturing to installation BODAQ Interior Films promote a healthy environment and safety, minimizing the release of volatile organic compounds (VOCs) and avoiding other hazardous chemicals. Recognizing different installation requirements we supply both flame retardant and non-flame retardant interior vinyl films to fulfill orders of any size.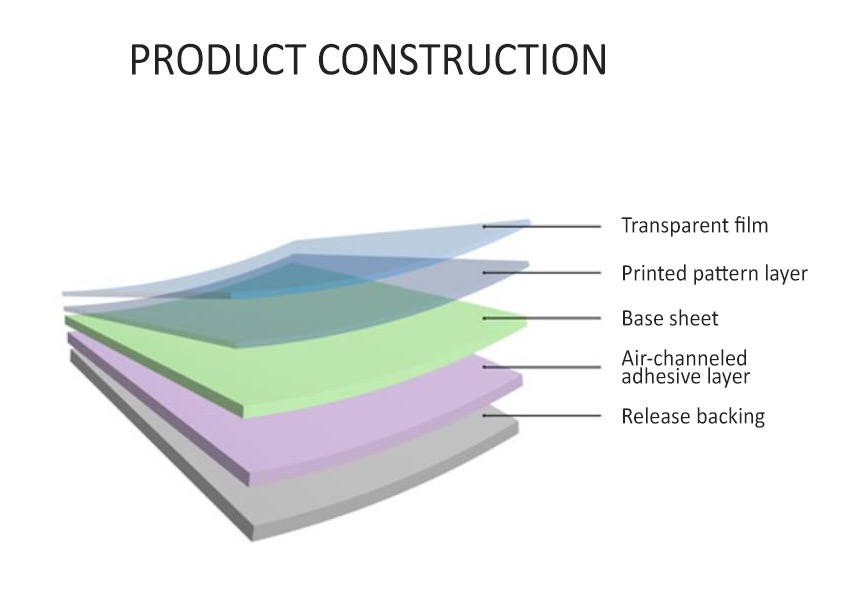 Our Interior Films Advantage
Available in diverse patterns, colors, and textures
Okay as is
Air-channeled adhesive for easy application on glass, tiles, MDF, etc
High-durability surface coatings
Resistant to moisture, pollutants, bacteria, and fungus
Eco-friendly
Flame retardant option available
Stain-resistant
Bodaq Films Installation Instructions
1. If needed, create a smooth, flat surface using putty followed by light sanding
2. Apply the primer on the surface for better adhesion, then apply around edges and corners, lightly sand when dry. Primer application requirements varies depending on the surface, for detailed instructions - contact our technical department.
3. Measure and cut the BODAQ interior film
4. Peel off and pull the release backing about 4 inches and attach the firmly attach the film, repositioning as needed until properly aligned
5. Using a squeegee held at a 45 degree angle, firmly adhere the film from top to bottom using a fan-shaped sweeping motion
How To Install Bodaq Interior Film
Bodaq Films Online Catalogue
With its eco-friendly, highly durable and diverse pattern designs, BODAQ Interior Film quickly and cost-effectively creates unique interior spaces. Based on the films various certifications, it can be used almost anywhere with confidence. With its special self-adhesive backing and easily-formed vinyl surface material BODAQ film installation is extremely cost-effective and adaptable to complex shapes and surfaces.
| DESIGN | TYPE | THICKNESS | WIDTH | LENGTH |
| --- | --- | --- | --- | --- |
| Basic, Wood, Natural Surface | General, Fire Retardant | 0,16 in - 0,17 in | 48 in | 164 feet |