New Ideas for Fireplace Design and Decorations in 2023
As the focal point of a room, the mantel is the perfect spot to showcase your personal style and add a touch of character to your home décor. Whether you're looking to refresh your existing mantel design or starting from scratch, here are some fresh ideas for mantel design and decorations in 2023.
Fresh Ideas for Mantel Design
Go Bold with Color
If you're feeling adventurous, consider painting your mantel a bold color to make a statement. Choose a color that complements the rest of your room's decor and reflects your personality. A bold color can be especially effective if your mantel is simple and unadorned, making it the focal point of the room.
Add Some Greenery
Bringing nature indoors is a timeless way to add life to your home, and your mantel is the perfect place to display some greenery. Consider adding a few potted plants, fresh flowers, or a vase of branches to your mantel to create a natural and organic feel.
Create a Gallery Wall
A mantel is the perfect spot to create a gallery wall, displaying your favorite art or photographs. Mix and match different frames and styles to create a curated look that reflects your personal style. Consider incorporating family photos or vintage pieces to add a touch of nostalgia to your display.
Mix and Match Textures
Mixing and matching textures is a great way to add interest and depth to your mantel design. Consider pairing a smooth, sleek vase with a rough-hewn piece of driftwood or a fuzzy throw blanket. Experiment with different materials like ceramic, glass, metal, and wood to create a cohesive yet textured look.
Incorporate a Theme
If you have a specific interest or theme in mind, consider incorporating it into your mantel design. For example, if you love the beach, you could display seashells, driftwood, and a framed beach photo. If you're a book lover, you could create a display of your favorite books or bookends. Whatever your theme, your mantel is a great spot to showcase it.
Keep it Simple and Minimal
Sometimes less is more, and a simple, minimalistic mantel design can be just as impactful as a more elaborate display. Consider displaying a single piece of art or a vase of flowers for a clean and uncluttered look. A minimalist approach is also great if you have a smaller space or want to let other elements in the room take center stage.
Add Some Sparkle
Adding some sparkle to your mantel can add a touch of glamour and elegance to your home décor. Consider incorporating metallic elements like brass candlesticks or a mirrored tray. Or, if you want to go all-out, consider a statement mirror or a glittering chandelier above your mantel.
Layer Different Heights
Layering different heights is a great way to add depth and dimension to your mantel design. Consider pairing a tall vase or candlestick with shorter elements like small sculptures or stacked books. This technique adds interest and draws the eye up, making your mantel the focal point of the room.
Incorporate Some Art
Your mantel is the perfect spot to display art, whether it's a single statement piece or a collection of smaller works. Consider using a large painting or photograph as the backdrop to your display, and layer smaller pieces in front to create a cohesive look.
Use Symmetry
Symmetry is a classic design technique that can add balance and harmony to your mantel display. Consider using a pair of matching candlesticks, vases, or sculptures on either end of your mantel, with a larger centerpiece in the middle. This technique creates a polished and refined look that's perfect for a formal living room or dining room.
Play with Scale
Playing with scale is a fun and creative way to add interest to your mantel design. Consider pairing a large piece of art or sculpture with smaller elements, like a collection of small vases or candles. Or, if you have a larger mantel, consider using oversized décor pieces to make a statement.
Add Some Vintage Charm
Vintage pieces can add character and charm to your mantel display. Consider incorporating an antique mirror, clock, or candlestick for a touch of nostalgia. Or, if you love the farmhouse style, consider using vintage milk glass vases or mason jars to hold flowers.
Create a Seasonal Display
Your mantel is the perfect spot to create a seasonal display, reflecting the changing seasons throughout the year. Consider using fall leaves and pumpkins in the fall, evergreen boughs and pinecones in the winter, and fresh flowers and greenery in the spring and summer.
Use Unique Objects
Using unique or unexpected objects on your mantel is a great way to add personality and whimsy to your home décor. Consider using a vintage camera, a collection of globes, or a framed collection of antique keys. The possibilities are endless, so let your imagination run wild.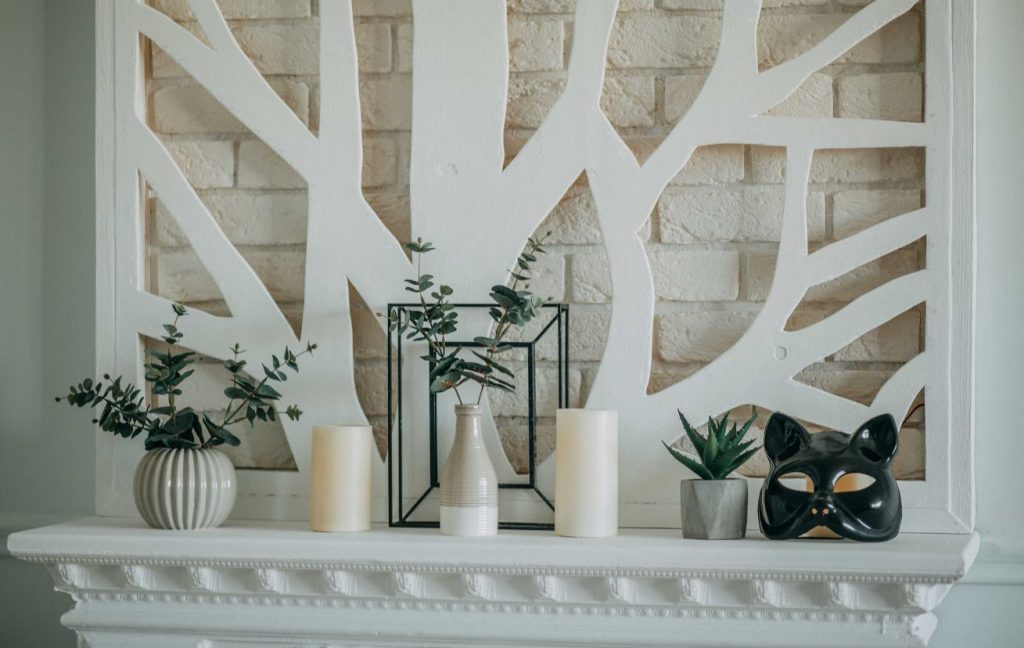 The Best Fireproof Materials for Decorating or Renovating Your Fireplace
Number one material in our opinion is Bodaq architectural film. It is a self-adhesive vinyl film that can be applied to a variety of surfaces, including fireplaces. It is made from fire-resistant materials that can withstand high temperatures and prevent flames from spreading. In addition, it is easy to install and comes in a variety of colors and textures to match any décor.
Also known:
Ceramic Tiles: Ceramic tiles are a great choice for decorating or renovating your fireplace as they are fire-resistant and have excellent insulation properties. They are also easy to clean and come in a variety of styles and colors to fit any decor.
Stone: Natural stone such as granite, slate, or marble is another popular choice for fireplace renovations. They are highly durable and resistant to heat, making them an excellent option for use near a fireplace. Stone also has a timeless look and can add an elegant touch to any room.
Concrete: Concrete is a versatile and durable material that is fire-resistant and ideal for use near fireplaces. It can be molded into any shape and can be stained or painted to match any decor.
Metal: Metal materials such as stainless steel or wrought iron are fire-resistant and perfect for creating a modern, industrial look. They are also highly durable and easy to maintain.
Fire-resistant Glass: Fire-resistant glass is another great option for fireplace renovations. It provides a sleek and modern look while also being highly heat-resistant. It is also available in a variety of finishes and styles, making it easy to find the perfect match for your decor.
What You Can and Can't Do When Decorating a Fireplace
Decorating a fireplace can be a fun and creative way to add some style to your home. However, there are certain things you should keep in mind to ensure that your decorating efforts are both safe and effective. Here are some dos and don'ts to keep in mind when decorating your fireplace.
Dos:
Do consider the overall style of the room when choosing decorations for your fireplace. You want your decorations to blend in with the rest of the décor rather than sticking out like a sore thumb.
Do make sure any decorations you use are fire-resistant. This is especially important if you plan to hang decorations directly above or near the fireplace.
Do use decorative screens or glass doors to prevent sparks from flying out of the fireplace and causing damage or injury.
Do use decorative fireplace tools, such as pokers and brooms, to add a touch of style to your fireplace.
Do incorporate natural elements, such as wood or stone, into your fireplace décor to create a rustic or earthy feel.
Don'ts:
Don't use flammable materials, such as paper or fabric, near the fireplace. This can be a serious fire hazard.
Don't hang decorations too close to the fireplace. As a general rule, decorations should be at least three feet away from the fireplace opening.
Don't overload the mantel with too many decorations. This can make your fireplace look cluttered and messy.
Don't forget to regularly clean and maintain your fireplace and its decorations to keep them looking their best.
Overall, decorating a fireplace can be a great way to add some style and personality to your home. By following these dos and don'ts, you can create a beautiful and safe space that you will enjoy for years to come.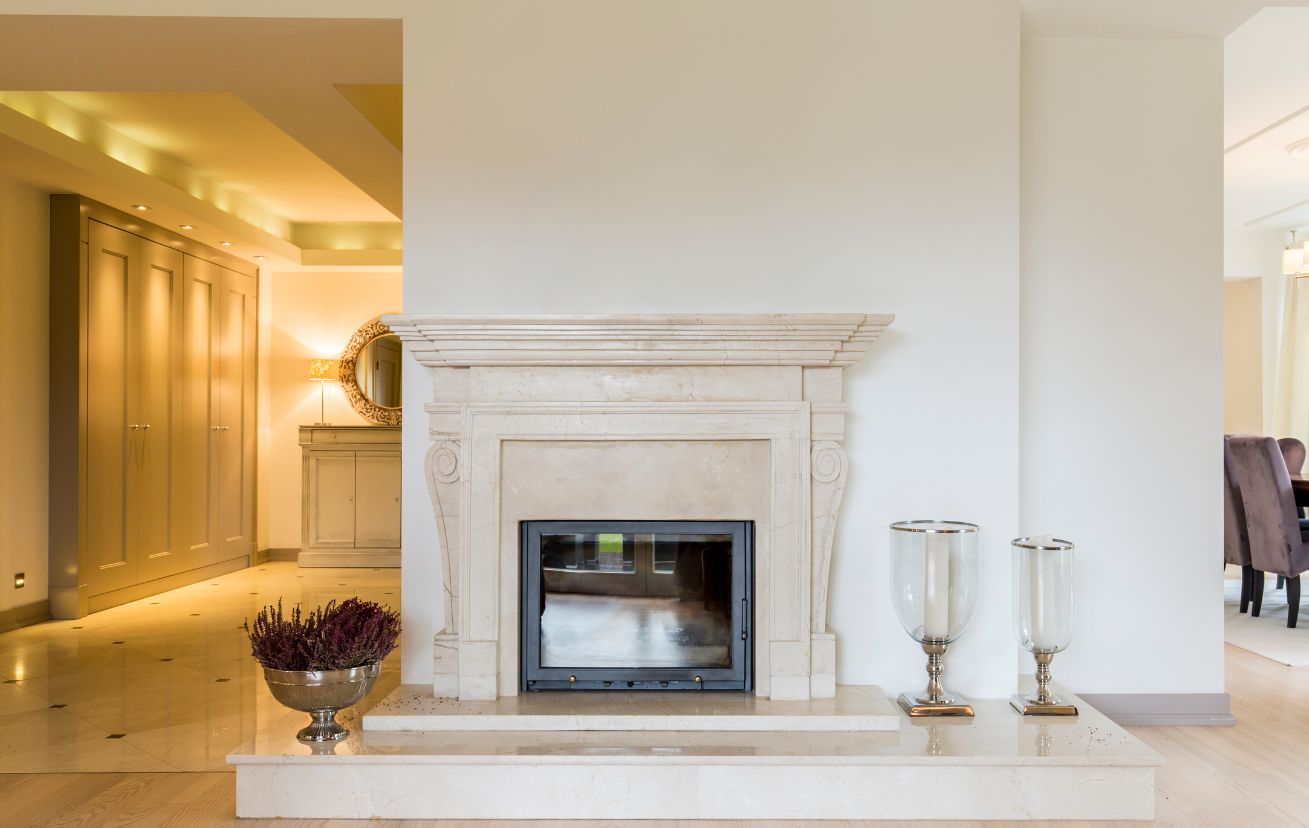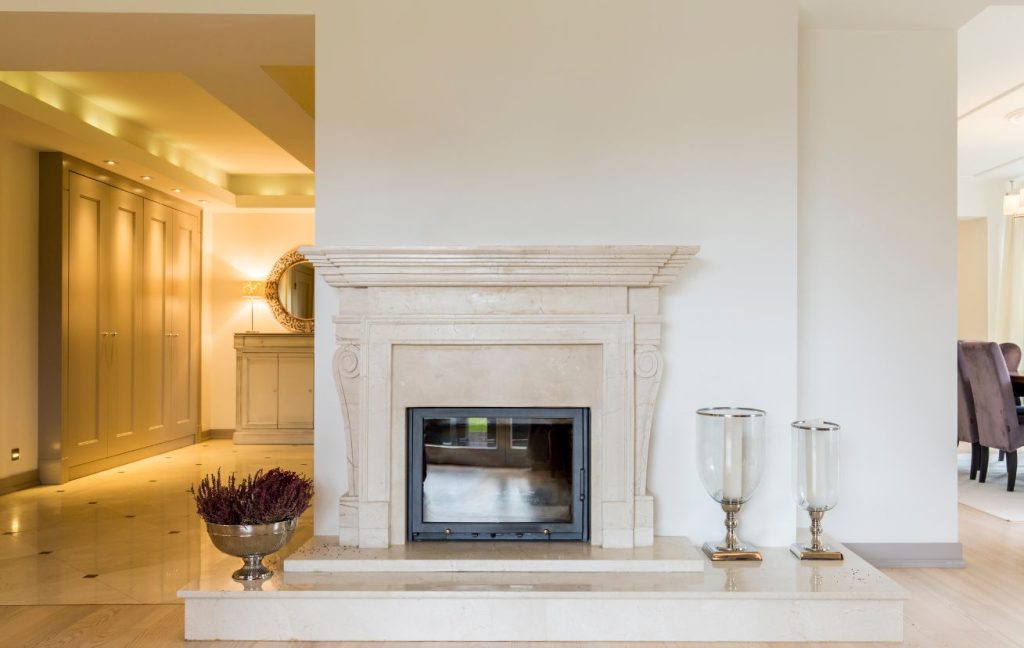 FAQ about Fireplace Design
What is the current trend for fireplace design in 2023?
Minimalistic designs, bold and textured tiles and sleek and modern fireplace inserts. Additionally, there is a trend towards creating a more cohesive design between the fireplace and surrounding wall, such as using the same material for both the fireplace surround and the accent wall.
Yes, it is possible to paint a fireplace, but it is important to use high-heat paint designed for use on fireplaces to prevent any fire hazards.
Is it possible to decorate the fireplace with plants?
Decorating a fireplace with plants can be a great way to add some natural elements to your decor. However, it is important to choose plants that can tolerate the heat and dry air that is typical of fireplace areas, such as succulents or cacti. It is also important to keep any plants away from the flames to prevent any fire hazards.