NeoCon 2023: Discover the Future of Interior Design with Bodaq Interior Film
NeoCon, the premier event for commercial design professionals, is quickly approaching, set to take place from June 12-14 at The Mart in Chicago. This year's exhibition promises to be a haven for designers, architects, and industry experts seeking innovative solutions to elevate interior spaces. One standout booth that you won't want to miss is Bodaq Interior Film, located on the 7th floor at booth 7-2047. Let's delve into what NeoCon has in store and why Bodaq Interior Film is a must-see showcase.
NeoCon: A Hub for Interior Design Inspiration
NeoCon has established itself as a leading platform for connecting professionals in the interior design industry. It brings together top brands, manufacturers, and designers from around the world, offering a unique opportunity to explore the latest trends, products, and ideas. As a hub for innovation, NeoCon enables participants to stay ahead of the curve and gain insights into the future of commercial design.
The Venue: The Mart, Chicago
The Mart, located in the heart of Chicago, is the ideal setting for NeoCon. Spanning over two million square feet, this iconic space sets the stage for exhibitors to showcase their cutting-edge products and concepts. With multiple floors dedicated to various design sectors, attendees can easily navigate the venue and explore a vast array of exhibits.
Bodaq Interior Film: Revolutionizing Interior Surfaces
One of the highlights of NeoCon 2023 is the presence of Bodaq Interior Film. Bodaq offers a revolutionary solution for transforming interior spaces, delivering high-quality, self-adhesive film that can be applied to diverse surfaces, including walls, furniture, doors, and more. Bodaq Interior Film offers an extensive range of designs, textures, and finishes, providing designers with unlimited possibilities to bring their creative visions to life.
Visit Bodaq Interior Film at Booth 7-2047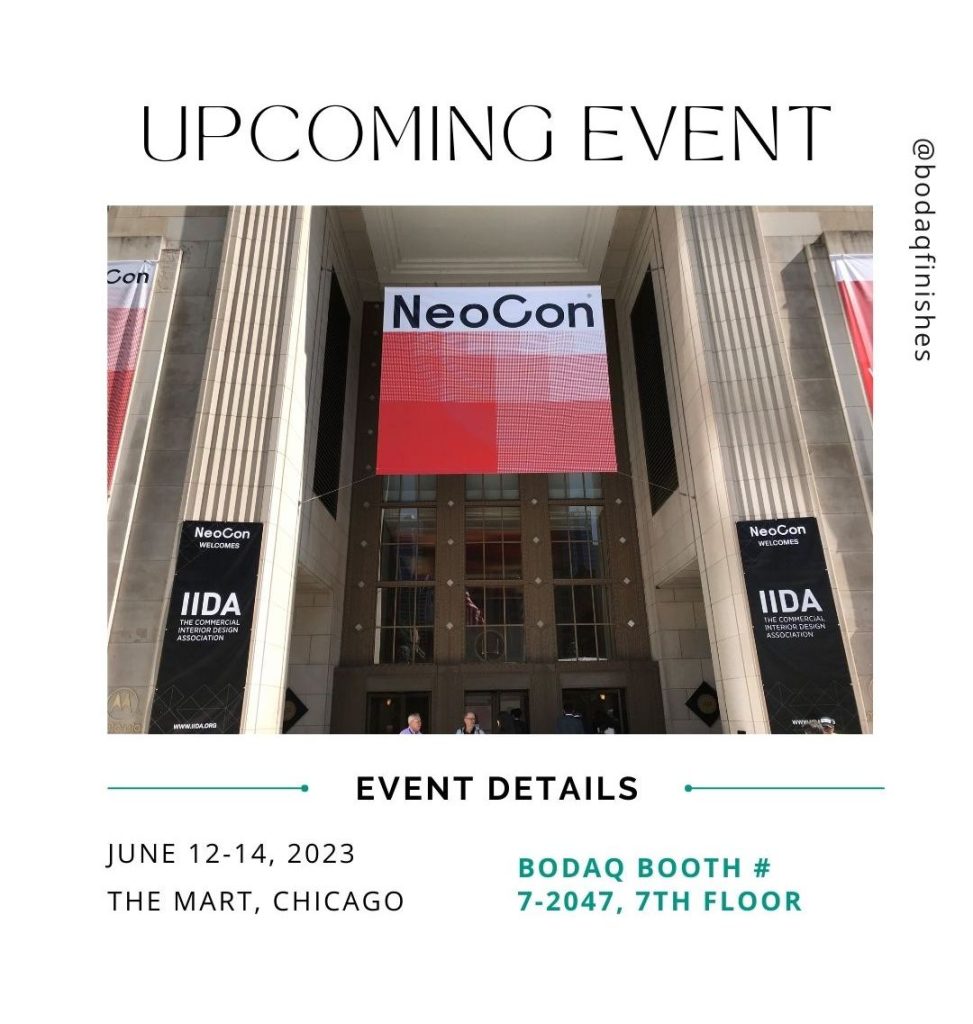 Booth 7-2047 is where Bodaq Interior Film will be showcased, offering attendees a firsthand experience of their innovative products. From wood grains to metallic finishes, visitors can explore a wide range of options and witness the film's transformative power. The booth will feature expert representatives who can provide insights, answer questions, and demonstrate the versatility and durability of Bodaq Interior Film.
Networking and Collaborative Opportunities
NeoCon isn't just about exploring exhibits; it's also a prime networking opportunity. Professionals attending the event can connect with like-minded individuals, industry experts, and potential collaborators. By sharing insights, experiences, and ideas, attendees can foster new relationships that may lead to future partnerships or projects.
Networking with Bodaq Interior Film Representatives
Bodaq Interior Film representatives will be available at booth 7-2047 on the 7th floor at NeoCon. They are knowledgeable experts in their field and can provide insights into the capabilities, applications, and benefits of Bodaq Interior Film. Whether you have specific questions about their products, want to explore potential collaborations, or seek further information, don't hesitate to engage with the representatives at the booth.
Additionally, for those unable to attend NeoCon or for follow-up inquiries, you can contact Bodaq Interior Film via email at [email protected]. Reach out to our team with any questions, requests for product information, or partnership inquiries. The representatives are eager to assist and provide the necessary support to meet your commercial design needs.
Attend Educational Sessions and Keynote Addresses
In addition to the exhibit floor, NeoCon offers an extensive lineup of educational sessions and keynote addresses. These presentations feature prominent figures in the design industry, sharing their expertise, discussing emerging trends, and providing valuable insights. Attending these sessions can broaden your knowledge and inspire you to think differently about your design approach.
As NeoCon 2023 approaches, excitement fills the air for professionals in the commercial design industry. The event's vibrant atmosphere, coupled with the presence of innovative exhibitors like Bodaq Interior Film, promises to create a truly immersive experience for all attendees. Don't miss the opportunity to witness the future of interior design and explore the limitless possibilities that Bodaq Interior Film offers. Make sure to visit booth 7-2047 on the 7th floor at The Mart in Chicago from June 12-14. NeoCon awaits, ready to inspire, connect, and revolutionize the world of commercial design.