A New Culture in Interior Design
About Hyundai L&C Corporation


Hyundai L&C is a high-tech materials company that protects the values of humanity and the environment. It is leading the global market as the company specialized in construction materials. For over half a century, Hyundai L&C has been making its name as one of Korea's prominent construction materials manufacturers.
Until 2018 the company was widely known under the name Hanwha L&C as The Space Creator. It was established in 2014 on the base of Hanwha Chemical Corporation (1999) and Korea Hwasung plant founded in 1965. In 2018 Hyundai Department Store Group finished the process of acquisition of Hanwha L&C and changed the corporate brand name to Hyundai L&C Corporation. A new shareholder decided to modify the corporate name as minimal as possible by keeping "L&C" that stands for "Living and Culture."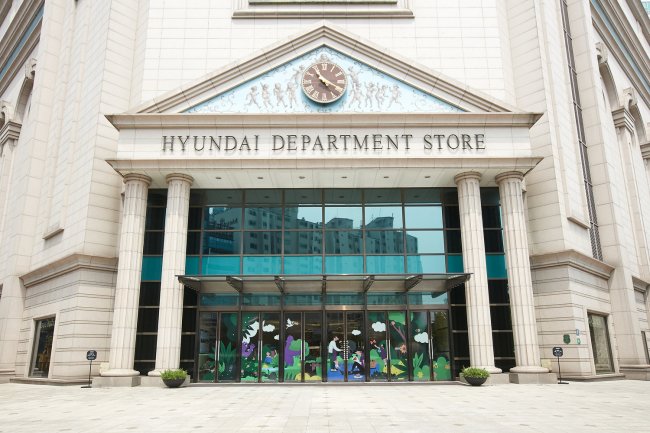 "Hanwha L&C's reputation and competitiveness in the construction materials industry were well-suited for our growth vision," a Hyundai official said. "We also thought it would be able to create synergy with our furniture affiliate, Hyundai Livart."
Hyundai L&C aims to retain and maximize its value to customers through innovation and business development.
L.E.A.D. is its main slogan, which states for the following:
Luxury lifestyle
Eco-friendly products
Ability to be improved
Design and creativity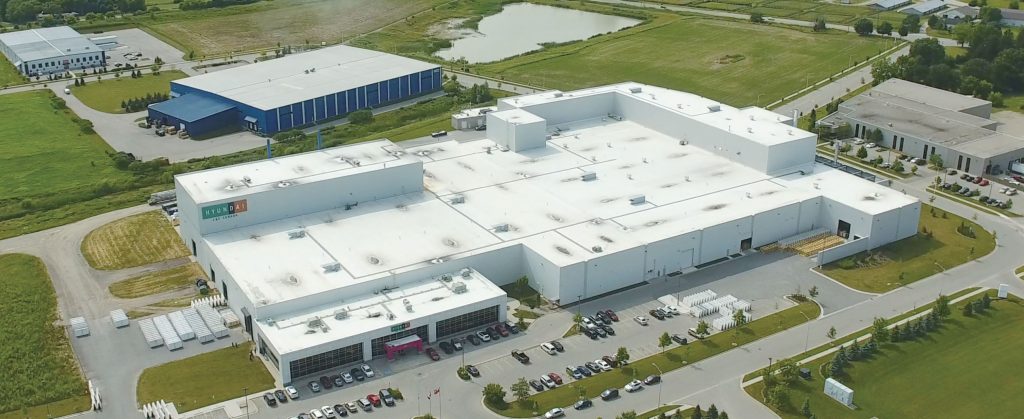 Values of Humanity and the Environment
Hyundai L&C strives to improve the quality of life in all aspects of human society and participates actively to preserve the environment, therefore making our lives collectively healthier and wealthier.
A high-tech Materials Company
With expertise gathered after many years of experience and achieved through ceaseless challenges, Hyundai L&C provides differentiated high-quality materials that exude creativity and passion.
The World of Bodaq®

Bodaq® is an eco-friendly certified interior film brand manufactured by Hyundai L&C in South Korea. Bodaq is constantly improving and developing its designs and function to satisfy the needs of many.
With its eco-friendly, high durable, and diverse pattern designs, Bodaq® Interior Film creates unique and luxurious spaces. Retaining various certifications, it can be used universally with trust. Bodaq can be applied not only in residential spaces like kitchens and bathrooms, but also in commercial spaces like cafes, restaurants, stores, hotels, and much more. Also, since it is a stick-and-peel type of product, with a special adhesive on the back of the film, its installation is quick and easy even on curved surfaces.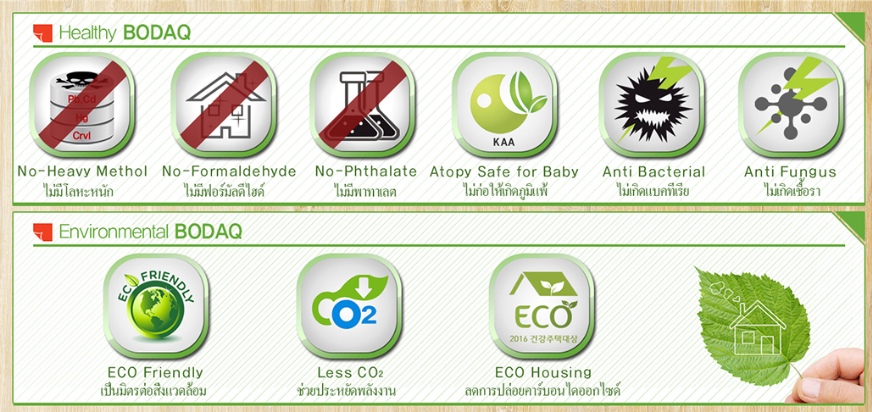 High-Functional Materials
Main Products:
– Functional adhesive architectural film
– Highly weatherproof exterior film
– Home appliances decorative film
Core Technologies:
– Mixing and processing technology for highly weatherproof decorative sheets.
– Micro coating technology.
– Technology for distinguished designs.
– Deep embossing, flow coating, high gloss, UV micro imprinting, metal locking, etc.
– Designing and processing technology for the film for home appliances.
The renovation with a vinyl film saves time and money because it eliminates spendings on labor. Furthermore, there is no smell, noise, dirt, and dust during installation. Films also have a long life expectancy.
Worldwide Success
After ten years in Asia, the Bodaq architectural film is number one for the surface finishing. As a result, major hotels, restaurants, offices, and stores are decorated with the product. Residential markets have caught on and use architectural film solutions too.
After successful growth in Asia, the move to the European markets was obvious. And after eight years in Europe, the architectural film became a new norm extending the life of homes, offices, and commercial spaces. Now it has recently been introduced to the market of North America.
Bodaq films appear in various TV shows, in media, and gained extended popularity in the design market.

North America Distributor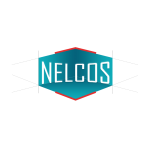 In 2019 Hyundai L&C Corporation began expansion to the North America market with its main official representative – Nelcos Distribution Inc.
Nelcos aims to change the interior design and renovation market in North America, making Bodaq Architectural Film from Hyundai L&C a well-known solution by showing its benefits over the traditional route of fixing or buying anew. Some of the product lines are stocked locally, so there is no need to wait for it to be delivered from Korea. However, there is a possibility to deliver any pattern from the catalog.
Trust of clients and constant commitment to partnerships are Nelcos' most important assets.