Bodaq Architectural Films As a Modern Renovation Solution
Tasked to simplify and improve the technologies of architectural designing, new extraordinary solutions are invented in today's world of innovations. Traditional restoration methods have been losing their popularity, giving the way to the ones requiring the minimum of time and effort, though guaranteeing a durable effect.
The Bodaq film is a high-quality self-adhesive finishing material that is used to refresh various types of surfaces including walls, ceilings, furniture, both flat and curved. Being manufactured in a wide selection of patterns and textures, it also serves as a great decorative instrument, able to drastically revive and modernize your interior.
A big bunch of properties makes architectural films multi functional and exceptional. Let's see what benefits you can get.
Price.
The architectural film is a cost-effective technology that is perfect for quick remodeling projects limited by a tight budget. Preferring it over the full refurbishment, you can considerably cut down the expenses on the materials and service fees.
Safety.
Bodaq films are made exclusively from safe materials, and, therefore, can be easily applied in any kind of living space including kitchen, bathroom or children's room with no risk for health. The safe formula of architectural films assures environmentally friendly production cutting out poisonous waste. 
Besides, the antibacterial properties of architectural films have been officially certified and manifest themselves in the germicide vinyl layer eliminating the conducive environment for bacteria generation on the surface.
Durability.
The several layered structure contains lightweight but firm materials including transparent film, printed sheet, base layer, air-channeled adhesive, and a protective release layer. Such a multiplex composition provides a sound surface, protected from scratches, dents, and other potential damages.
Besides, the moisture-wicking and stain-resistant capabilities of architectural films fortify their longevity, additionally keeping them safe from fungus.
Depending on the client's needs, the Bodaq films are both flame-retardant and non-flame-retardant. 
Easy and fast installation.
Compared to the traditional restoration approaches, the architectural film application seems to be just ultra-quick. The process includes a few simple actions that do not require you to use a heap of instruments or puzzle your head over a thick user's manual. All you need is to thoroughly clean up the application surface and cover it with the film properly according to the recommended installation techniques.
Check the playlist from our official representative below to learn more about architectural film properties and its installation.
Installation Training Lessons with Peter Maki
Flexibility.
The architectural film can boast of limitless application purposes including residential, educational, or commercial rooms. Moreover, even the vehicles do not make an exception! The film can be easily used for resurfacing the interiors of recreational cars or other transport. It is suitable for both inside and outside renovation.
Highly accommodating designing solution.
Available in multiple patterns, architectural films create special styling possibilities. Properly embossed detailed textures faithfully replicate the natural materials, such as metal, wood, marble, fabric, and others. As a result, you can get a brand-new piece of furniture or wall design in the least time.
Patterns And Textures to Conform All Tastes.
The astonishing variety of architectural film patterns brings an opportunity to satisfy any aesthetic whim. From solid-colored to marble-printed, the offered film samples can be harmonically combined to invent exclusive and elegant designs.
The outstanding feature of textured films is that they are unrecognizable neither by look nor by touch. That means that their imitating capabilities are of high level and versatility.
One more important benefit is the possibility to easily remove an architectural film with a heater and replace it with another one, in case the pattern didn't fit.
Architectural Films for Interiors.
Usually, the decision to update the interiors by the way of traditional re-fit is quite stressful and foreshadows an enduring disruption. Changing the walls, replacing the furniture, getting new doors and other stuff will probably hit you in the pocket and take a lot of time and effort. So, let's consider how vinyl films can fasten and simplify this intimidating process.
First, the architectural film enables the fundamental change of the outer look of almost any furnishing object. This is due to its fascinating range of application surfaces that can be wood, plastics, aluminum, stainless steel, and others. As a result, you can instantly upgrade the design of any interior feature, whether it is a kitchen cabinet, elevator cab interiors or ceiling covering.
Second, the required tool package is limited to a few tools like a ruler, pencil, utility knife, and a heater. Therefore, you will be relieved from the additional expenses on countless refurbishing materials.
Third, the diversity of patterns and prints allow for the limitless designing ideas. Maybe, you want to create a comfortable reception office? Or a voguish bar counter? Or a sophisticated wood-paneled living room? All of these projects can be accomplished in a super fast and approachable manner.
Why Architectural Film Installation Is Beneficial?
When there is an urgent need to renew a room economically and within a short time, the architectural film comes to help. This solution will unburden you from hiring the whole crew of workmen, everyday clutter, dirt, and other mess caused by a conventional refurbish.
Furthermore, it is possible to accomplish finishing with no outside help. There are only a couple of steps that separate your room from a fresh classy look. Let's check what the basic algorithm is: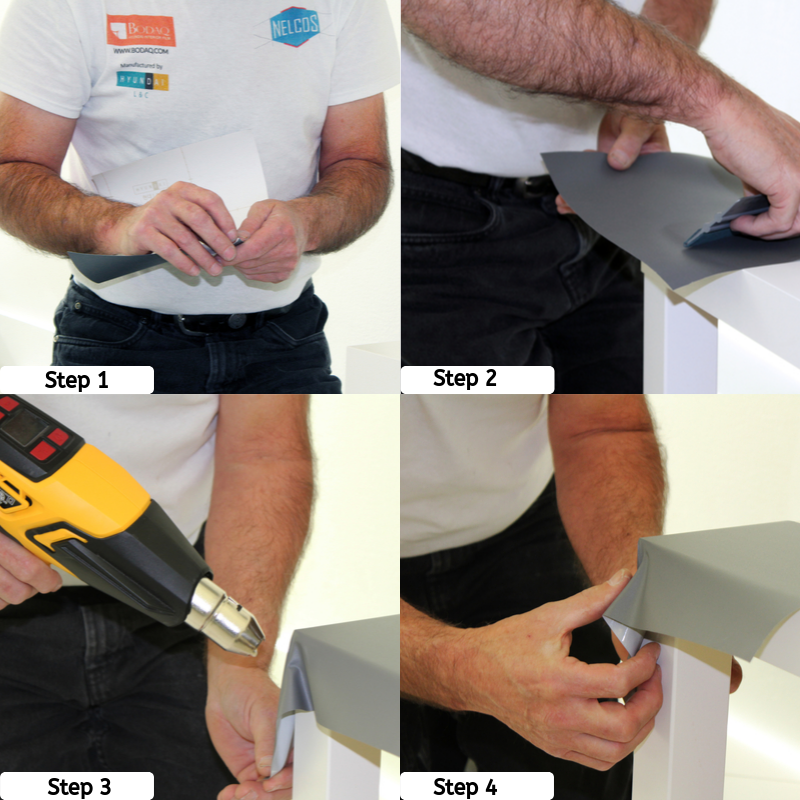 Take the exact measurements of the surface that needs to be updated and calculate the size of the architectural film needed.

Cut the film into pieces for the application to be more convenient. Do not forget to leave the space for wrapping.

Make sure that the installation area is perfectly neat, smooth, and dry. To remove any roughness, you can polish up the surface using a putty. Such preparation is indispensable for the film to spread evenly keeping out any bulbs and ridges.

After the refinishing is done, is it recommended to check the whole surface again. In case, some defects are found, they can be easily repaired right away.
Wrapping Up.
Taking the above said into consideration, architectural films seem to make a great option when choosing between the renovation approaches. Affordable in price, durable in quality, and simple in installation, this solution provides an exciting and unhampered way for amazing transformations.
You are welcome to explore more Bodaq film possibilities here – Architectural Film and How to Use It.