Bodaq Architectural Film Manufactured by Hyundai L&C
What Is Architectural Film?
The architectural film is a self-adhesive non-toxic finishing solution that is used to cover any surfaces, for instance, walls, ceilings, doors, furniture, etc., whether they are flat or curved. BODAQ Interior Film quickly and cost-effectively creates unique interior spaces thanks to its eco-friendly, highly durable, and diverse pattern designs. Based on the film's various certifications, it can be used without hesitation. With its special self-adhesive backing and easily-formed vinyl surface material, BODAQ architectural wraps installation is cost-savvy and adaptable to complex shapes and surfaces.
BODAQ architectural films are class A fire and smoke rated. Their stable performances are certified by authorized international institutions. From manufacturing to installation, BODAQ interior films promote a healthy environment and safety, minimizing the release of volatile organic compounds (VOCs) and avoiding other hazardous chemicals. Recognizing different installation requirements, we supply both flame retardant and non-flame retardant interior vinyl films to fulfill orders of any size.
What is Bodaq Interior Film: Video
Architectural film or interior film: What's the difference?
Architectural film, interior film, and interior wrap are essentially synonymous terms, referring to the transformative use of innovative film materials in architectural and interior design. These terms collectively encompass the practice of revamping a variety of surfaces, including walls, ceilings, floors, furniture, cabinets, countertops, and even doors. The following terms are synonyms to interior film and are often used interchangeably: interior wrap, surface film, decorative film, design film, interior finish film, interior covering, interior vinyl, interior coating, interior refurbishment film. 
Manufacturer – Hyundai Living & Culture Department
The architectural vinyl films are manufactured by the Living & Culture Department of Hyundai in South Korea under the Bodaq brand. It is a popular finishing solution in Europe and Asia and has been introduced to the market of North America recently.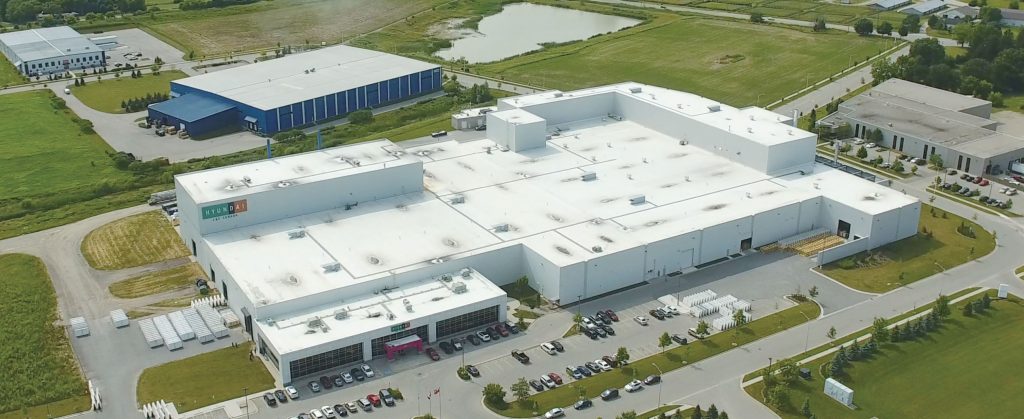 Hyundai L&C is leading the global market as a company specializing in construction materials. For over half a century, Hyundai L&C has been making its name as one of Korea's prominent construction material manufacturers.
The product's manufacturing process produces high-quality material in a healthy, safe work environment while minimizing the release of volatile organic compounds. The architectural vinyl wrap is a durable stain-resistant surface coating, also available in diverse patterns, colors, and textures. The architectural film patterns imitate surfaces made of wood, metal, paint, fabric, etc. It is also a sustainable solution because it allows changing textures without replacing the item.
Architectural Film 

Wrap Structure

There are the following layers in the structure of the architectural vinyl film: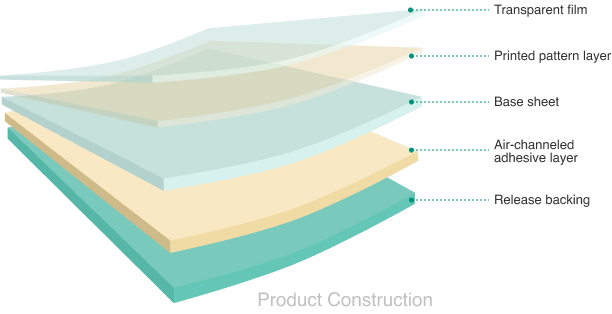 – Emboss and a printed film layer made of vinyl-chloride plastic that imitates wood, marble, concrete, brick, paint, metal, fabric, and much more.
– Simplified air-channeled adhesive made of acrylic plastic, also known as polymethyl methacrylate (PMMA). It does not contain potentially harmful bisphenol-A subunits found in polycarbonate. PMMA is a strong but lightweight material.
– Release back paper as a protection for the adhesive layer of architectural film wrap.
Environmentally Friendly Solution
Based on strict criteria and tested by numerous international agencies, BODAQ film meets demanding performance and environmental standards.
Safe for children 
Children's environments need to be safe, and free of dangerous or potentially dangerous components. The architectural film is non-toxic and safe for health and well-being. It means that it can be used in spaces where children spend their time, for instance, in schools.
Antibacterial
The most compelling evidence of the antibacterial properties is represented in the certificates and technical reports of the architectural film. An anti-bacteria test showed that the vinyl film has an excellent antibacterial function, inhibiting the bacterial biofilm formation on the vinyl film surface.
Antifungal
It also does not absorb moisture, so there is no nourishing environment for the fungus development. Therefore, it is an excellent way to maintain healthy living spaces.
Eco-Friendly
The architectural film not only reduces the amount of waste created but also helps conserve natural resources and reduces our reliance on other waste management options. There are also ways to recycle the product.
Less CO2 emissions are being released during the manufacturing process of the film. One of Hyundai L&C's top priorities is reducing greenhouse gas emissions. These measures include concentration on energy efficiency, fuel switching, combined heat and power, use of renewable energy, and more efficient usage and recycling of materials.
No Volatile Compounds
The architectural film does not release heavy chemicals, no heavy metals, no formaldehyde, and no phthalate. Therefore, it is an excellent solution for living spaces as it is safe for health.
Areas of Architectural Vinyl Wrap Application
The architectural film is suitable where there is a demand for a design-forward durable surface – in both commercial and residential spaces. There is a tremendous difference between traditional renovation approaches and renovation with an architectural film. The savings are noticeable, especially for commercial spaces, when the architectural film installation eliminates all expenses of ruining the existing interior to start renovating.
Most Common Areas of Application
The following are the most common areas of application for architectural vinyl film. Though, the possibilities of architectural film usage are endless.

To refinish the existing pieces and create unique designs for livable spaces.

To renovate the interior of the public use areas in a building, like lobby, elevators, gym, hallways, etc.

Healthcare Facilities
To update a medical office or hospital with a product that is easy to clean and sanitize.

Educational institutions
To choose safe materials for the environment where children spend their time.

Senior Living/Retirement Homes
To create a comfortable and welcoming environment for seniors.

Restaurants and foodservice locations
To update the look of a restaurant, café, or any other foodservice location to embrace your customers' experience.
Retail
To fix the existing damages and ensure refinished surfaces last a long time.

To exceed the  expectations of your guests with unique designs that are easy to take care of.

Offices and coworking spaces
To create comfortable workplaces by refinishing existing furniture and covering walls with beautiful but durable material.

Airports, Train Stations, Shopping Centers
To ensure durability, fast installation without business interruption, and much waste.

To change the look of recreational vehicles (RVs) and boats without adding weight and taking precious space.

To refinish surfaces on escalators and moving walks; and in the elevator cab, including doors, walls or wall panels, floor, and ceiling. Bodaq Interior architectural film is Technical Standards and Safety Authority approved, ASME A17.1 / CSA B44 compliant. It also has ASTM E84 Class 1 or A smoke and fire rating.

Upgrade
To upgrade the damaged surface without the need to replace the entire piece.
Overall, an architectural film can be applied to indoor spaces like ceilings, walls, kitchen cabinets, furniture pieces, fire doors, partition doors, and other surfaces – flat or curved. It is suitable where there is a demand for a design-forward durable surface – commercial, residential spaces, malls, stores, and hospitality. It provides extreme durability and stain resistance, maintaining its perfect appearance for 10+ years.
Textures and Patterns of Architectural Vinyl Wrap
Another point to pay attention to is the variety of patterns of the architectural film available in the catalog. There are more than 500 patterns of interior film that imitate different types of surfaces, like stone, marble, wood, paint, metal, and fabric.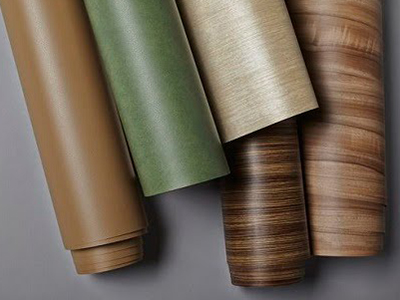 With a variety of options, there is no limit to creativity. Imagine all the new and exciting possibilities attainable with the innovative product – the architectural film from Bodaq. Make your design dreams come true.
And one more benefit of the architectural wrapping film is its texture. For instance, the patterns from the Wood Collection imitate wood so precisely that you can feel the wood fibers under your fingertips. At the same time, there is no need to buy expensive wood and replace items at your place. You can kill two birds with one stone by using our product.
Architectural Films Installation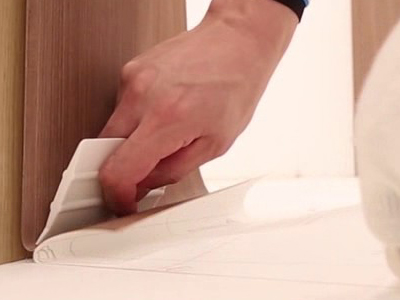 One of the most appealing features of the architectural film is its installation. It is a new and innovative approach to renovation or finishing because there is no extensive preparation before, no dust or dirt during installation, and a reduced amount of waste in contrast to traditional approaches. And the tools necessary for the installation are pretty basic.
Step-by-Step Installation Guide
The process consists of several steps, which include:
– Deciding which patterns to use. The catalog includes more than 500 patterns that look like natural wood, stone, marble, fabric, paint, and more.
– Taking exact measurements of the area of application. It is critical to know the application area and its square footage.
– Calculating the exact amount of the product for a project. In this step, the surfaces are separated into application areas. After that, the amount of architectural film, which is necessary for the project, is calculated.
– Application area and material preparation. The application area should be neat and smooth for installation to go faster. And material preparation includes the film cut into pieces necessary to cover the application areas.
– Priming a surface if needed. Film application on the curved areas, corners, and edges needs more solid adhesion. For this purpose, there is a primer.
– Installing an architectural film on the surface. With proper installation techniques, this part goes fast and easy. Make sure that the installer knows how to apply the product.
– Check. After the installation, we recommend checking the architectural film state in the refurbished area. If there are some imperfections, they can be easily fixed during the check.
To summarize the installation process – the installers wrap the existing surfaces with the film to look new and as necessary for the design project. The installation is quick, and the final result looks fantastic.
The Architectural Vinyl Film is The Only Solution You Need
The architectural vinyl film is an excellent innovative solution for interior design needs. It can be used for the new space finishing or renovation of an old place. The areas of application are broad and limited only by imagination. If you would like to implement modern trends in your design at a fraction of the price, renovate your space – commercial or residential, or add value to your rental property, the architectural vinyl film is the only solution you need.